I am hosting a meeet up in Iowa and I would love to meet you and give you a big hug! Or if you want to co-host with me then let me know that too!  
Think of it as a FREE girl's weekend away that doesn't require packing or plane tickets, where women can kick off any expectation of perfect, set aside their fears, their shyness, their worry that they're not good enough, and find some of Jesus' words of rest woven into every video shared here.
If you aren't close to me then find a meet-up in your area, or what about hosting one yourself? Just invite a few girlfriends over for coffee, tea, water, goodies, and girl talk. Here's what will be happening during this awesome weekend or the agenda as we call it!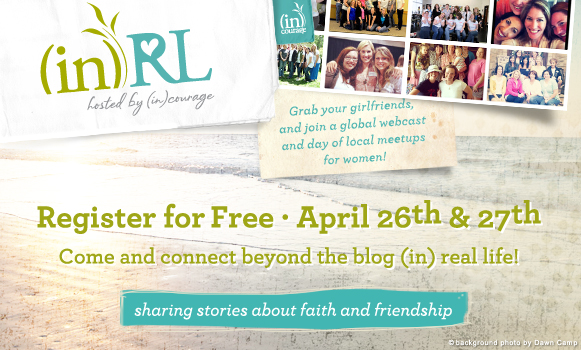 When: The (in)RL webcast kicks off on Friday, April 26 and (in)RL meetups follow on Saturday, April 27.
What: Last year we explored the nitty gritty of community. This year we're taking a closer look at what it takes to stay rooted in community when sometimes just walking away would be so much easier and tons more convenient. Women share stories of how they've chosen to stay through hard marriages, challenging parenting, worthwhile friendships. How choosing to stay has freed them more fully and unexpectedly than if they'd cut and run.
 If you register today (it's free!) you get this (in)courage Perpetual Calendar for free – but only today.  Everyone that registers any time will get a copy of Incourage's first eBook: "Best of the Beach House 2012.